WHAT IS THE AVATHY METHOD?
I created this workshop to help you identify your ideal customer through a process I call "Avathy"


Avathy is a mixture of two words: AVATAR + EMPATHY
.


What is an Avatar?
An Avatar is a fictitious representation of who your perfect customer is. Instead of targeting an audience based on demographics, we target an Avatar based on objections, challenges, pain points, and needs.


Crafting your Avatar will allow you to identify how, when, and where you will communicate with them to present your product or service. 


Empathy is probably one of the essential parts of defining your Avatar. Remember that an Avatar is a person, and this person has feelings and emotions and that those who buy your product are not numbers or zip codes. They are people
. 


Workshop Video Trailer
Play the video to find out more about the Avathy Method Workshop!
WHY IS IT IMPORTANT TO CONSTRUCT AN AVATAR AND AN EMPATHY MAP?




To sell, you need to know. Know who your clients are, know what they like, what they need, their pain points, you need to understand what makes them tick, what makes them become a raving fan. 
It would be best if you decoded your Buyer's persona DNA. This workshop is intended to do just that, to help you decipher the core of your ideal customer to improve your sales, conversion rates, and communication. 
This course is made a foundation for selling anything, anywhere.


Understanding who your Buyer's persona is, creating a map of how they feel, how they engage, and how "what they need" will provide the correct framework to scale and sell any business you want. 


You can not pretend to target everyone and talk to everyone simultaneously and expect excellent results. That strategy will leave you with low engagement, poor conversion rates, loss of money, and time.


Invest your money and time wisely and reap substantial benefits! 
This workshop includes the creation of the Avatar Map.
The Avatar map has five distinct sections:
Demographic Information
Goals and Values
Challenges and Pain Points
Objections and Roles 
Sources of Information
Each section has a dedicated video diving deep into the creation of your ideal customer.
I will build one Avatar as we move along with you to use it as a reference.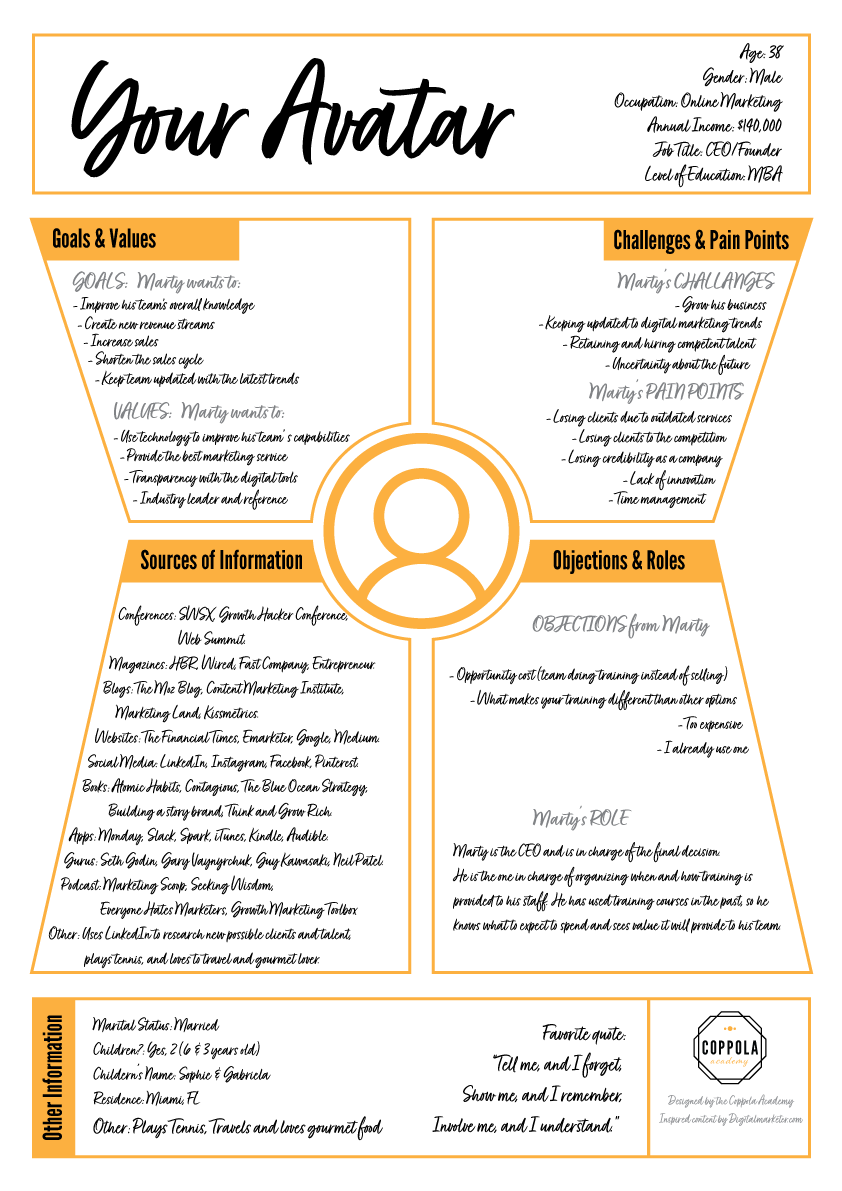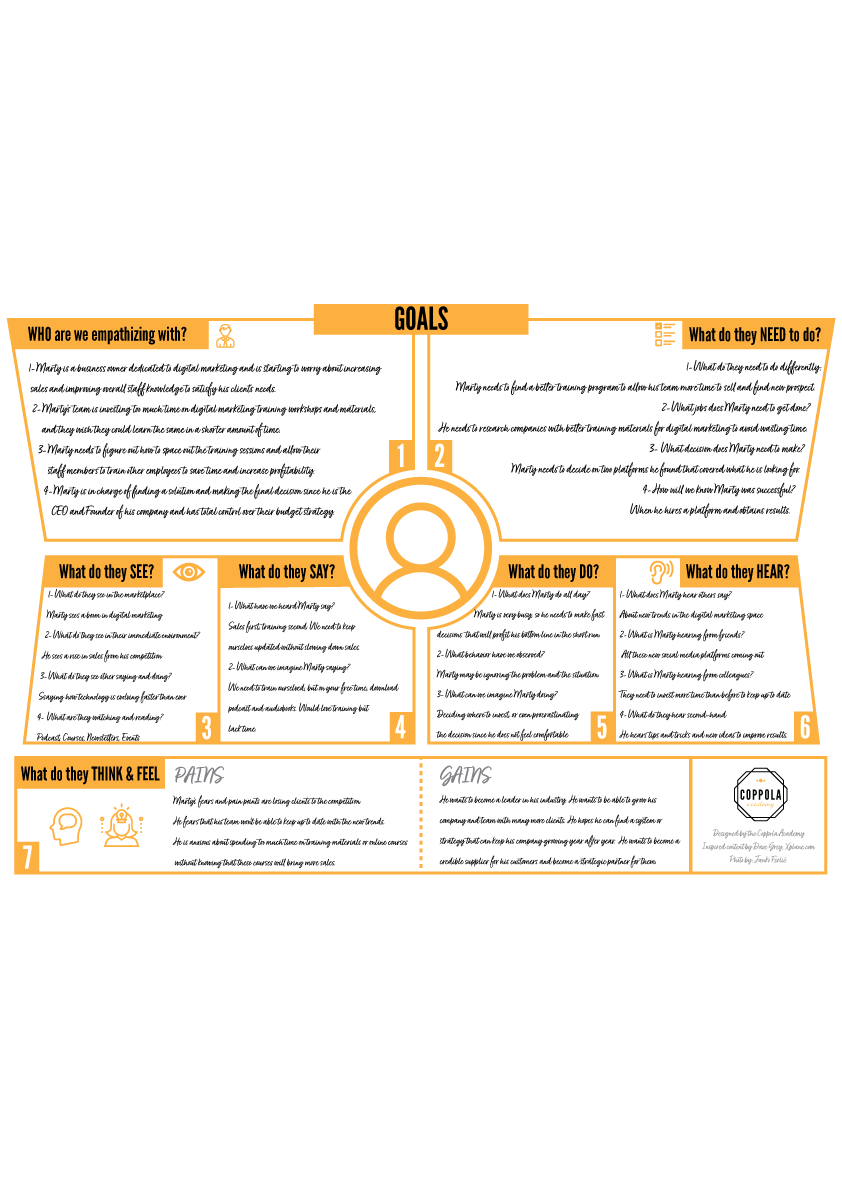 After we Identified our Avatar, we will develop an Empathy Map to obtain more emotional insights into your ideal client. 
The Empathy map has seven distinct sections:
Who are we empathizing with?
What do they need to do?
What do they see?
What do they say?
What do they do?
What do they hear?
What do they think and feel?
Each section has a dedicated video diving deep into your Avatar's psychology and science, tied with marketing principles to make your message highly effective. 
The Bonus Lessons
MODULE 3
The bonus lessons will help you use this new-found knowledge to increase your overall results.
Do I like my Avatar?
Engagement Scenario Stories
The Hero's Journey
Storytelling
Your Negative Avatar
Content Marketing
Each bonus lesson touches on a particular point to enhance all the work you have done and paint a roadmap for your communication and strategy to be more effective.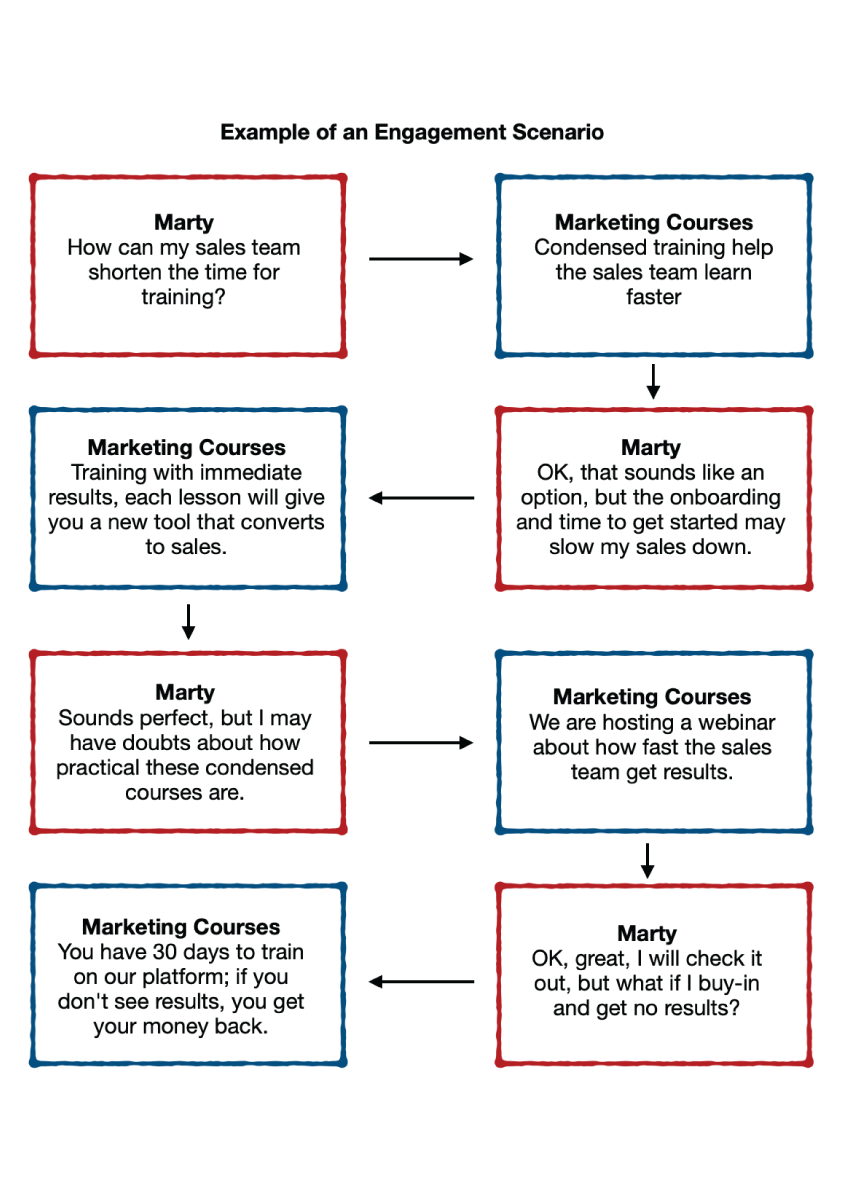 Hello I am your instructor!
My name is Germán Coppola. I am the CEO and founder of Yumiwi, an event technology company that uses data to understand attendees at events better. 
I was born in a small South American country called Uruguay. I then moved to Costa Rica when I was still a kid and later in life to Guatemala and finished college in Fort Lauderdale in Florida, where I studied Business, Psychology, and an MBA. From Florida, I moved to Spain to start my own business over 20 years ago. 
I am sharing my life story with you because one thing I realized at an early age is how differently people act and behave depending on the country I was in.
I had to adjust and adapt to their cultural standards, and It always made me think about how big brands manage to adapt and sell their products all over the world, knowing how different we all are.
So how can you target the right audience.? How do you know who is going to buy your product? 
That is why I built this workshop to answer all these questions and help you identify your ideal customer, and help you improve your overall results!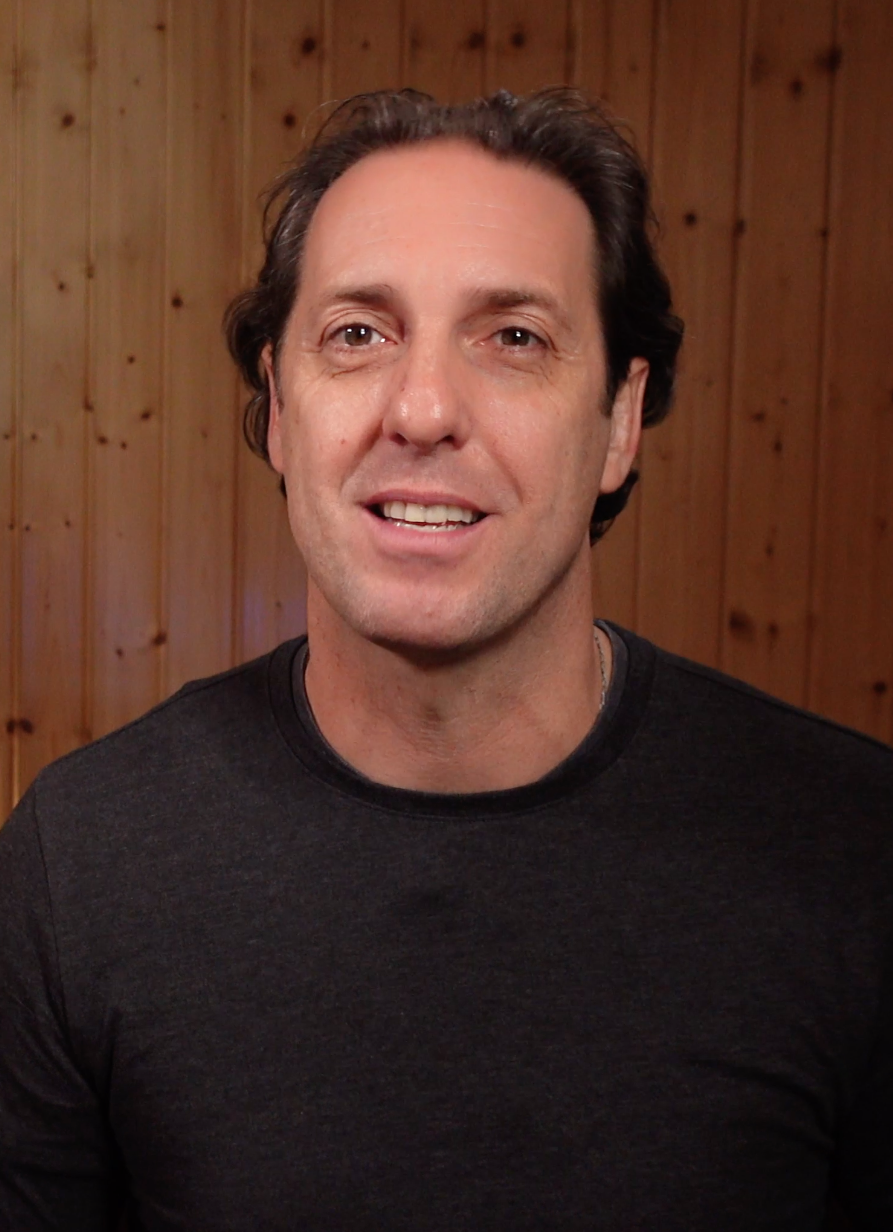 "TELL ME AND I FORGET, SHOW ME AND I
REMEMBER, INVOLVE ME AND I UNDERSTAND"
YOU ARE JUST ONE STEP AWAY FROM IDENTIFYING AND DECODING YOUR IDEAL CUSTOMER.
More Courses from the Coppola Academy
EXAMPLE